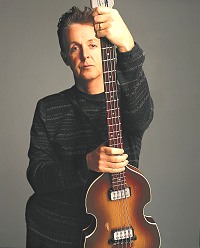 "Now the fellas... Na-Na-NaNaNa" How many times does Paul have to play "Hey Jude". Well the answer is every concert. I was thinking about how acts like McCartney, Stones, etc. just play greatest hits concerts. I mean when you are still coming out to "Jumping Jack Flash" in 2006, it's about time you should come up with some relavant music. And both Paul McCartney and The Rolling Stones had good albums in 2005 (McCartney's being great actually). Yet McCartney only played two songs off of

Chaos and Creation In The Backyard

. Old timer bands always make the setlist completely predictable, consisting of two-three dreadful new songs, and 15 or so 'remember this one' sort of tunes. I just think it's about time for those bands to give it up if they are just going to play "Start Me Up", "Tumbling Dice", and "You Can't Always Get What You Want". Or at least play some of the rarely played greatest hits if you're gonna stick to the formula. They always say they are giving the fans what they want. The fanboys will say you are, but deep down inside they want to hear something off of

Bigger Bang

. Hell, I bet they'd kill to see some

Flaming Pie

action. It's time to mix it up especially when you have a good album. I thought of this because I was watching an AC/DC DVD. They came out to "Thunderstruck", then after that Brian Johnson said "We got some Back In Black for ya!" I was just laughing so hard. Now I'm sure if I was at a concert I'd be singing "Hey Jude" with the 45 year old business man on my right and the 43 year old mom to the left. So I'll give some awareness to my possible hypocracy. But this is starting to hurt some bands. Take U2 for example. On their Live From Chicago DVD, the whole crowd is business men, the teenagers are non-existent (Although the UK shows do have people below 35). The show is pretty bad from a U2 standpoint too. The worst parts being the greatest hits time when the show was totally out of sync just to get "New Years Day" in there. I just think old timers should at least put some effort into making the setlist. Just no more "Hey Jude" Paul.

I actually listened to the radio for the first time in ages this past weekend. I'm going to give you a little report on the radio.

*Rihanna's new single "SOS" is amazing.
*Bubba Sparxxx' single "Ms New Booty" is horrible.
*Gnarls Barkley's "Crazy" is pretty boring.
*I learned that I love all of Ciara's singles, especially "Goodies".
*The Ying Yang Twins singles are really catchy. By the way their last album is highly underrated.
*Power 92 is having a Spring concert with T.I., Paul Wall, and Juel Santana.

-Did you know that Michael Jackson didn't write "Thriller". Rod Temperton did.

As John Kruk said, the White Sox got their swagger back this past week and a half.